The Best Preventative Thing You Can Do for Your Joints? Stretch
Posted on: Jun 15 2020
By: editor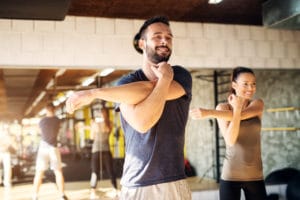 You don't have to be a yoga instructor to reap the benefits that stretches can bring. Whether it's during sun salutation or simply touching your toes every morning, practicing daily stretches can benefit not only your muscles but also your joints. The results can lead to more flexibility (clearly), improved oxygen intake and greater performance.
To get started on your stretching journey, here are a few positions that anyone can do while either standing or sitting, regardless of their current flexibility.
While either standing or sitting, simply tilt your left ear toward your left shoulder. Gently press down on your head using your left hand for a deeper stretch, but of course be careful not to press past comfort. Repeat on the right side.
Stand or stay seated, then reach both hands behind your lower back and interlace your fingers. Gently straighten your arms and slowly raise them, feeling a stretch between your shoulder blades as well as in your wrists.
Standing Hamstring Stretch
Otherwise known as touching your toes, simply stand tall with both feet together before bending at the waist and reach for your feet with outstretched hands. You should feel the stretch along the back of your legs. Don't worry if you can't reach your toes, and gently bend the knees if the tension is too tight.
Stand tall with your feet together. Bend your left knee and use your left hand to reach your backside with your foot, feeling the stretch along your front leg. Release and repeat on the other side.
While standing tall, step your legs slightly wider apart than hip width. Lift your right arm above your head and lean toward your left side, stretching as far as to place your left hand above your knee. Repeat on the left side.
Stand with feet as wide apart as comfortably possible. Lower into a squat position and place each hand on each knee. Then, gently twist your left shoulder toward your right knee and alternate to your right shoulder toward your left knee. This opens both the hips and upper back.
Call us any time to learn how we can help you at 562-219-7251 or 714-200-1010.
Posted in: Joint Replacement