4 Simple Tips for a Healthy Spine
Posted on: Jul 15 2020
By: editor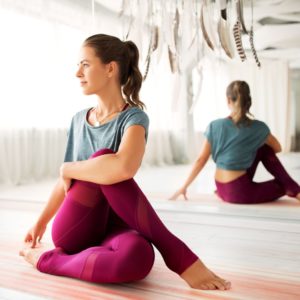 Prevention is a powerful tool for staying well. While there are some spine injuries that are unavoidable, there are things you can do to ensure that your spine is healthy.
Stay active
Exercise is key to staying healthy. We recommend working out three times a week for at least 30 minutes as a goal. Other than exercise, it's also important to be active during your daily routine. Try to take regular breaks from sitting every hour. Adding more steps to your day or even just standing more can be a big help.
Ergonomics
Make sure your workspace is set up in an ergonomic way. For example, keeping the monitors and computer keyboard at arm's length so you don't have to strain is a good step. As mentioned above, make sure you can move positions and stretch frequently as well. Try to sit low enough so your feet are supported or touch the ground. Remember to sit up straight and keep your spine aligned. To avoid neck strain, try to look straight ahead at your screen.
Lifting
Whenever you have to lift heavy objects there's a possibility of doing damage to your back. But there are ways to make lifting safer. Make sure you have a clear pathway through wherever you're moving the object. Ask others to help you if the item is extremely heavy. Keep a wide stance and lift using your legs, not your waist. Avoid bending from your back. Try not to twist instead pivot from your hips and feet to keep stress off your back.
Driving
Long driving trips can be really hard on the spine. As with good ergonomics, this also applies to your car. Make sure to adjust the seat height and distance of your seat so your knees can be slightly bent but your back supported. You may also want to recline your seat slightly to reduce the strain. If you are on a long trip, make it a priority to take frequent breaks to stretch.
We hope these tips help keep your back healthy. If you would like to know more about spine treatment options, give us a call at 714.200.1010 (Fountain Valley) or 562.219.7251 (Cerritos) today.
Posted in: Spine Surgery