3 Benefits of Physical Therapy
Posted on: Sep 15 2019
By: editor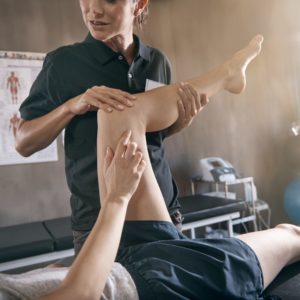 Biking, running, hiking, skiing— whatever your poison is, if you were recently injured while doing one of your favorite thing in the world, then we may recommend that you do some physical therapy. During each of your physical therapy sessions, your doctor will go over a variety of different strength training exercises and stretches to help you heal after being injured. But, what are some of the benefits of physical therapy? Let's take a closer look.
It's Non-Invasive
One of the biggest reasons why we recommend physical therapy to our orthopaedic patients is that it's a non-invasive treatment. Typically, we will start patients out with a conservative treatment like physical therapy because it gives patients real results without having to undergo surgery. Just remember, though, that the only way for physical therapy to really work is to actually go every week and to practice the exercises at home— remember, if you don't do the work, you won't get the results.
It Speeds Up Surgical Recovery
Even though physical therapy itself is non-invasive, it is also used as part of surgical recovery. For instance, if you just had a knee replacement done, physical therapy will help you learn to walk again and get movement back into your new knees so that you heal faster.
It's Strengthening
Unlike other treatments like taking medications to alleviate pain, physical therapy works to actually strengthen your muscles and joints to give you real results. During each physical therapy session, your therapist will go teach you a bunch of stretching exercises that are easy to do on your own at home. Remember that if you ever have any questions about these exercises, don't be afraid to ask.
We have seen real results in our patients who are dedicated to their physical therapy. If you want to learn more about physical therapy, schedule your appointment at our office and call us at 562.219.7251.
Posted in: Physical Therapy